Leiden University Data Management Network
All University staff involved or interested in research data management are invited to join Leiden University Data Management Network.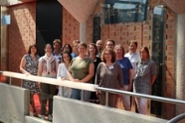 Many people across Leiden University have an interest in, or a responsibility for, good research data management (RDM) within their group, institute, or faculty.
If you are one of these people, you are invited to join the Leiden University Data Management Network.
Register to join the Leiden University Data Management Network.
The Data Management Network brings together staff from all faculties and central support services who have a role to play in research data management (RDM) support.
The network will contribute to the thematic network on data management that will be built within Leiden Research Support (LRS).
The aims of the network are:
To contribute to the development of RDM support services across the university.
To communicate with others and exchange knowledge about best practices in RDM.
To develop relationships and set-up collaborative working groups.
To develop workflows and materials that support Leiden researchers in practical RDM.
To learn more about RDM developments taking place at Leiden University, in the Dutch support community, and beyond.
To provide a forum for raising ideas and suggestions for the development of RDM support at Leiden.
About the Leiden University Data Network
We invite staff from all faculties to join the network
Events: the Network has regular (monthly) convening meetings and working group meetings. See details of upcoming events in the calendar, and read more about past events on the Digital Scholarship blog.
Communication: Network members are added to a mailing list (archive for members only) and a dedicated MSTeams space for chat, news feed, and shared documents.
Register to join and become part of the community
Contact the Centre for Digital Scholarship data management team for more information: datamanagement@library.leidenuniv.nl
Fieldwork Interest Group
This interest group aims to exchange experiences and tips with regard to fieldwork. Both researchers from all disciplines and research support staff are welcome to join! The aim is to develop a practical and accessible guide for Leiden University researchers on data management aspects of data collection abroad. If you wish to get involved, contact Mareike Boom.