Leiden Knowledge Centre for Photography
Leiden is a knowledge hub, unique in its kind in the Netherlands, for academics, professionals, students and all other people who are specialized or interested in photography. The city and university offer:
Photography collections
The photo collection of Leiden University, part of the Special Collections of Leiden University Libraries: the oldest photo historical photography collection in the Netherlands, representing all technical, cultural-historic and artistic turns of the medium from its invention in 1839 until today, embedded in a library and documentation archives specialized in photography.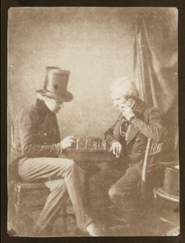 Master's programme
Film and Photographic Studies (MA): the internationally oriented master course at Leiden University's Faculty of Humanities, covering the history and theory of film and photography within the broad context of visual and other media.
Courses
Two separate courses on identifying photographic images for professionals working with original photographs, collectors or other people interested in the materiality of photographs:
Collaboration
Leiden University acts as a knowledge center for photography for curators of many museums in the Netherlands and abroad. Many parts of the collection are visible in the form of loans, often dozens at the same time. Complete photography exhibitions, often in combination with lectures or symposia, have been realized in recent years in collaboration with, among others, Fotomuseum Den Haag, Haags Historisch Museum, Museum Hilversum and Kunsthal Rotterdam.
International Photo Festival Leiden with exhibitions and events, providing opportunities to meet photographers and experts, while sharing knowledge on photography with a broad public.
Events
Symposia, lectures and other events, like 11 June 2022 international conference on photography, in the framework of Leiden European City of Science 2022 European City of Science | Leiden 2022 European City of Science.