Now available: Open Science: A Practical Guide for Early-Career Researchers
This practical guide is aimed at PhD candidates, Research Master Students, and early-career researchers from all academic disciplines. The instructions in the guide intend to inspire young researchers and to help them practice Open Science, by sharing all aspects of research as open possible.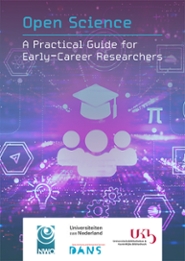 The guide accompanies researchers in every step of their research, from the preparatory of their research project and the discovery of relevant resources (chapter 2) to the phase of data collection and analysis (chapter 3), writing and publishing articles, data, and other research output (chapter 4), and outreach and assessment (chapter 5). Every chapter provides an overview of the best tools and practices for immediate implemention.
The guide is a collaborative effort by the Dutch consortium of University Libraries and the National Library of the Netherlands (UKB), together with the University of The Netherlands (UNL), the Dutch National Centre of Expertise and Repository for Research Data (DANS) and the Dutch Research Council (NWO). Dan Rudmann from the Leiden University Libraries Centre for Digital Scholarship, contributed to the guide for Leiden University.