Online access to medieval manuscripts improved
Do you frequently search the catalogue of Leiden University Libraries (UBL) for western medieval manuscripts? Then you must have noticed important changes lately. Some 1800 summary catalogue records in Dutch were replaced by more elaborate descriptions in English. Furthermore, the catalogue interface has been renewed. The improved display and lay-out of the full presentations turn out well for the catalogue records of medieval manuscripts, with their abundance of information. And now there is also the 'Inventory of Western Medieval Manuscripts Held by Leiden University Libraries', compiled by manuscripts curator André Bouwman: an easily searchable pdf document, which links to the corresponding catalogue records and can also be called upon when inspecting the result lists of the online catalogue.
Inventory and online catalogue mutually connected
The interaction between the pdf inventory (available via UBL's repository Digital Collections) and the online catalogue combines the strong points of both search instruments. UBL makes available all relevant information about its holdings in the online catalogue. This discovery system is designed to quickly search millions of printed and electronic publications, using brief descriptions. But searching in this wide ocean for mere drops of 1800 elaborate manuscript records and digesting the description notes and references of, say, 10 items in a result list (about texts, material aspects and provenances) — that is quite a different cup of tea. Also, the online catalogue cannot indicate whether or not a catalogue search has been performed with the best possible search terms.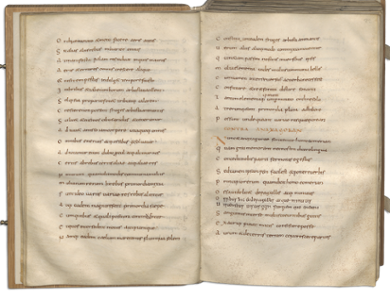 It is here that the Inventory of Western Medieval Manuscripts Held by Leiden University Libraries offers clear advantages. The pdf document contains a concise presentation of all medieval manuscripts, clearly arranged by collection and shelfmark. It also provides various indexes, a clickable navigation menu, a standard search function for word strings, and for each manuscript the user can link to the corresponding catalogue record. And the catalogue user in their turn can link to the wider context of Bouwman's Inventory, thanks to a url present in each manuscript record.
The catalogue records and inventory entries have been compiled in English to facilitate and promote the already existing international research interest for Leiden's manuscripts collection even further. The inventory entries are derived from the corresponding catalogue records, using important field contents. In the remainder of the inventory parts of this information are combined and presented anew in various useful series and indexes, such as: all manuscripts arranged by time and space; all manuscripts arranged by height of writing space and bookblock; all texts arranged by author and by language; all medieval bindings arranged by collection and shelfmark.
Digital versions of printed catalogues
Since 1900 the western medieval manuscripts in Leiden have been studied thoroughly, resulting in printed catalogues, collection by collection. Many of them were still compiled in Latin, but some also in Dutch, French and English. Their entries contain much valuable information about the codices and fragments, more than an online catalogue record can store and display. That is why they have been digitised in their entirety. But who knows to find the right digital version at all times? Therefore, the new catalogue records mention for each manuscript which of the printed catalogues are relevant, and provide a url linking to the digital version. In the introduction of his Inventory Bouwman lists all Leiden catalogues describing medieval manuscripts and explains what kind of information they have to offer.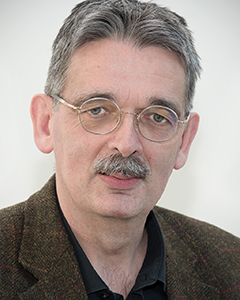 "More and more these last years, I feel like the proverbial dwarf standing on the shoulders of my predecessors in the library, colleagues who spent a considerable part of their time cataloguing our medieval manuscripts. Without the work of Philipp Molhuysen, Gerard Lieftinck, Karel de Meyïer, Piet Boeren and professor of western palaeography Peter Gumbert I could not have compiled the Inventory of Western Medieval Manuscripts Held by Leiden University Libraries."
André Bouwman, Curator of Medieval Manuscripts