A DIY tradition goes online: unofficial poetry from China in Digital Collections
Close to twenty thousand pages of new material have been added to the online collection of unofficial poetry journals from China in the Leiden Digital Collections. Produced "outside the system," these journals are hugely influential yet very hard to find. To address this paradox, Leiden University Libraries (UBL) is making its unique collection freely accessible online. This latest upgrade includes about a hundred newly digitised journal issues.
The latest addition to the Digital Collections includes newly acquired issues of previously digitised journals but also many new titles of various description. Unofficial poetry publishing in China happens not just in journals but also in books, and a true gem in our Digital Collections is the monumental New Tide Poetry (新诗潮诗集). Edited by Lao Mu 老木 and published in 1985, this two-volume anthology is a milestone in Chinese literary history.
Migrant worker poetry
The spring 2022 update of the Digital UNPO collection also gives pride of place to "battler poetry" (打工诗歌), a common description of poetry written by domestic labour migrants. Titles include The New Worker (新工人), Worker Poetry (工人诗歌), and The Battler Poet (打工诗人). These "battlers" have left the countryside for the cities, to realize dreams of economic well-being and urban adventure – or, to end nightmares of unemployment and destitution and flee from the patriarchal strictures of village life. They work on the assembly line, in construction, and in the service industry, including anything from office work to sex work. Often working under horrifying conditions and with few legal or civil rights, many of them have made themselves heard through media such as poetry, fiction, and music. Their message ranges from patriotism and pride to despair and resistance. Unofficial publishing started with highbrow, "avant-garde" writing by authors who were politically marginalized but definitely part of a cultural elite. Battler poetry comes from a much less privileged world. That it has joined same DIY tradition illustrates the continuing power of poetry as social practice in China, today as in antiquity.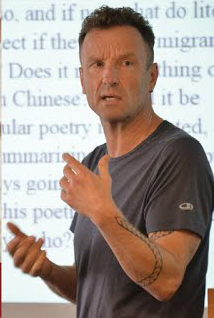 "Some of these publications are nothing short of legendary. Just about everybody who is anybody in Chinese poetry today first published in the unofficial circuit. It's exciting to know that students and scholars can now access this material from anywhere."
Maghiel van Crevel
Professor of Chinese Language and Literature
Leiden University
Use and support
The digital collection of unofficial poetry from China at the UBL is used by readers and researchers around the world. Their interest confirms the importance of safeguarding and disseminating this precious material. This is made possible by the long-standing support of Chinese poets and editors and by the generosity of Dr. Freerk Heule, whose financial support has enabled the project to truly take off.
About Digital Collections
UBL makes digitised and born-digital materials available through Digital Collections. The Digital Collections platform has a wide range of functionalities, like a full-text search function for printed works, a powerful zoom function, and high-definition image downloads. Searches can easily be focused and refined and a connection to the library catalogue is readily available. Every collection has its own collection page for easy access but different collections can be searched simultaneously. A persistent link is provided for every digital source record, to facilitate reliable reference in print and online. Many materials in Digital Collections are published under a CC-BY license and hence freely usable and alterable for every user. UBL continues to add new materials to Digital Collections. Much of this material is accessible through the Leiden IIIF Advanced Viewer. We invite new users to view our instruction videos to optimise their experience.