Donation of early twentieth-century glass negatives and prints from the Arabian Peninsula
On Thursday 11 November, Jan Jaap Hooft and Marjon Hooft donated a special collection of glass negatives and photographic prints from the Arabian Peninsula to Leiden University Libraries (UBL). The collection is part of the estate of their grandfather Jan Albert Hooft (1883-1972). Hooft held a position at the Algemene Handel-Maatschappij around 1905 in Jeddah in present-day Saudi Arabia and was affiliated with the Dutch consulate. The glass negatives and prints will soon be available for research in the Special Collections Reading Room.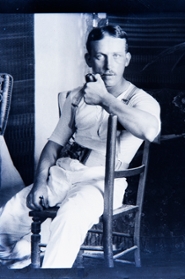 The donation
The collection of the Hooft family consists of approximately one hundred and twenty glass negatives, fifteen photo prints and some personal documents of Jan Albert Hooft. The negatives show street scenes in Jeddah between 1900 and 1910, everyday life in the city and the annual passage of the Egyptian pilgrim caravan on its way to Mecca in the Hajj season. Twelve photo prints mainly depict Mecca and Medina, the holy sites of Islam. They were not made by J.A. Hooft, but by a different photographer. The documentation accompanying the donation consists of personal documents and a short description of the experiences of J.A. Hooft in Jeddah, which provides context to the photos.
"Early twentieth-century photographic material from the Arabian Peninsula is very rare, so this donation is a remarkable and important acquisition for the UBL. It is an excellent addition to the photographic materials already present in the Leiden Middle Eastern collections."
-Arnoud Vrolijk, curator Middle Eastern collections.
Photography in the Leiden Middle Eastern Collections
The Special Collections of the UBL hold various collections of photographs of the Arabian Peninsula from the nineteenth and early twentieth centuries. The archive of the famous Leiden Arabist, Islamologist and diplomat Christiaan Snouck Hurgronje (1857-1936) includes a series of famous photos of Mecca and ceremonies surrounding the Hajj. These photos were taken during his visit to the holy city in 1884-1885 and afterwards, at his request, by the Meccan physician Abd al-Ghaffar. Parts of Snouck Hurgronje's archive and photo collection can be viewed online via Digital Collections. Unfortunately, the photos from Mecca are not available online due to personal data concerns. The UBL also holds various photo collections of Dutch consuls in Jeddah from the first half of the twentieth century. Consuls in the Arabian Peninsula were often former students of Snouck Hurgronje and they liked to share their photos with their former teacher. These photos were transferred to the UBL by the Oriental Institute (Oosters Instituut) in 1996.
Research
Are you interested in doing research in the Jan Albert Hooft collection of glass negatives? Contact curator Arnoud Vrolijk.