New in the collections: correspondence of Nobel laureate Wisława Szymborska
Slavicist, translator and publisher Pim van Sambeek recently donated his correspondence with Nobel Prize winner Wisława Szymborska to Leiden University Libraries (UBL). Most letters were written in 1982-1983 before the first publication of a collection of Szymborska's poetry in Dutch, translated by Van Sambeek himself and published by the small Leiden-based publisher De Lantaarn. The letters are now part of the Leiden Special Collections and will soon be available for research in the Special Collections Reading Room.
The letters
The correspondence consists of four letters from Szymborska to Van Sambeek and six letters from Van Sambeek to Szymborska. The donation also contains two postcards from the Polish poet Ewa Lipska (1945) to Van Sambeek and some accompanying documents. The correspondence offers insight into the realization of De Lantaarn's translation and the working methods of Szymborska and her contacts. The donation also contains a commentary by Van Sambeek on the donated documents, providing extensive context.
The translation by De Lantaarn
De Lantaarn began publishing in 1978 as a student publisher but gradually became more professional in the following years. When Szymborska won the Nobel Prize for Literature in 1996, Dutch translations of her poetry had only ever been published in literary magazines. Most of the well-known editions of her work were published in or after 1997. Only De Lantaarn published a selection of 20 poems in limited edition in 1983 in collaboration with the Polish-Dutch Cultural Association. The success of this first Dutch translation of Szymborska's work, the direct result of the correspondence, was not particularly striking. After winning the Nobel Prize, however, a reissue of the 1983 bilingual collection in 1996, fabricated at breakneck speed, was a resounding success. More than a thousand copies of this edition were sold. The translation of De Lantaarn is part of the UBL collections and can be requested via the Catalogue.
Wisława Szymborska
Despite the limited scope of her oeuvre, only four hundred poems, Szymborska is regarded as one of the greatest poets of her time. She was born in 1923 in the village of Bnin. When she was eight, she moved with her family to Krakow, where she would live until her death in 2012. In a speech given on the occasion of her death, then-Polish President Bronislaw Komorowski called her Poland's 'guardian angel'.
Her style was described by the Nobel Committee as 'similar to Mozart's', a reference to her 'wealth of inspiration and the veritable ease with which her words seem to fall into place'. Her poetry is mainly praised for its celebration of everyday life, but in the meantime often criticizes her environment and society. This criticism, according to the committee, is often 'made more scathing by its very restraint.'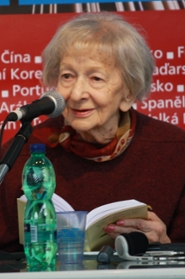 Research
Are you interested in studying the correspondence between Pim van Sambeek and Wisława Szymborska? Contact Mart van Duijn, curator of post-medieval manuscripts and archives, or Vincent Wintermans, subject librarian for Linguistics, Italian language and culture and Russian studies.
Postcards sent by Ewa Lipska