Digitised photos, daguerreotypes, and slides now available in Digital Collections
Leiden University Libraries (UBL) has made 45,000 digitised daguerreotypes, autochrome plates, photo prints, albums, cameras and other objects from its photography collections available through Digital Collections. This means that parts of the oldest photo collection in the Netherlands are now digitally available for education, research and the interested public. The digitised objects are freely accessible to everyone. Contemporary materials might not be viewable online because of copyright provisions but can be requested at the Special Collections Reading Room at the University Library.
Art Photography
UBL curates the Print Room photo collection: the oldest (since 1953) and one of the most complete photo collections of museum quality in the Netherlands, focused on the representation of all historic, technical, and artistic developments of the photographic medium. The digital collection covers a remarkably long period, from 1839 until the present. It holds, for example, the most exhaustive overview of 'New Photography' in the Netherlands, with work from artists like W.H.F. Talbot, Nicéphore Niépce, and Sir John Herschel. The Digital Collections also hold an extensive collection of autochrome plates (one of the earliest forms of colour photography), with work from early art photographers. Work by the most important Dutch art photographers, like George Hendrik Breitner, Henri Berssenbrugge, Bernard Eilers and Adriaan Boer, are available, as well as work by their foreign counterparts like Alfred Stieglitz. Virtually every artistic movement and technical development since the invention of photography is represented in Digital Collections, from Pictorialist works and early amateur photography up to and including modernist New Photography from the interbellum period and post-World War II subjective photography.
From the photographic technology collection (cameras, studio- and darkroom accessories and historic projection equipment) a representative number of objects has been made digitally available.
Andriesse, Emmy, Rijnwijk zal herrijzen, (PK-F-A-03938)

Zweers, Berend, Portrait of Maria Wilhelmina Zweers, daughter of photographer Berend Zweers, (PK-F-64.20)

Unknown, Still life with flowers and fruit, (PK-F-PKL.0703)

Loman's "Sport" Hand-Kamera - 3 (PK-F-74.208)

Talbot, W.H.F., Chess players, (PK-F-67.41)

Talbot, W.H.F., Kant, (PK-F-67.38)

Unknown, Girl in a garden, (PK-F-PKL.0693)
Documentary photography
Alongside the extensive collection of art photography, UBL curates an important collection of documentary photography. Work by Dutch photographers like Emmy Andriesse and Cas Oorthuys from the Leiden Special Collections has largely been digitised and is available for consultation. Filmic graphic stories, created in handmade photobook dummies by Ed van der Elsken, Johan van der Keuken, Ata Kandó and Koos Breukel, are also available in Digital Collections. Special mention should be made of the unique, digitised collection of photobook dummies, which were created shortly after World War II, and of the collection of documentary photography resulting from a grant from Stichting Fonds Anna Cornelis. This foundation supports in-depth documentary research by photographers, and subsequently entrusts the resulting series to UBL, thereby securing a systematic representation of contemporary documentary photography in photo historic context.
Since the relocation of the Print Room photo collections to the UBL, a growing number of photographs from other Leiden University academic collections are managed centrally at the Leiden Special Collections and subsequently made available through Digital Collections. These include medical photo collections, photo collections from the Leiden Academic Historical Museum about the history of Leiden University itself, the photo collections of the former KERN Institute on South Asia and the Himalayas, and the KITLV photo collections on Southeast Asia and the Caribbean.
Southeast Asian photography
The collection of images of Southeast Asia in Digital Collections contains photo albums, individual photos, glass negatives, glass positives and slides depicting life in the region from around 1850 to 1950. These collections are both comprised of commercially produced series by professional photographers, including the most complete collection from the photographic studio of Woodbury & Page, and works by nineteenth-century photographers such as Kassian Céphas, Isidore van Kinsbergen, J.A. Meessen and Lambert & Co. Digitised family and travel albums provide visitors with a more intimate and personal image of the period. A more recent acquisition is the Edwards collection, comprising nineteenth- and early twentieth-century photographs of the Dutch East Indies and the mainland of Southeast Asia, including Singapore, Burma, Penang and Malacca. The Edwards Collection will be available in Digital Collections in the course of 2020. Highlights in this collection include albums of work by Thilly Weissenborn, O. Kurkdjian, Sachtler and C.B. Nieuwenhuis.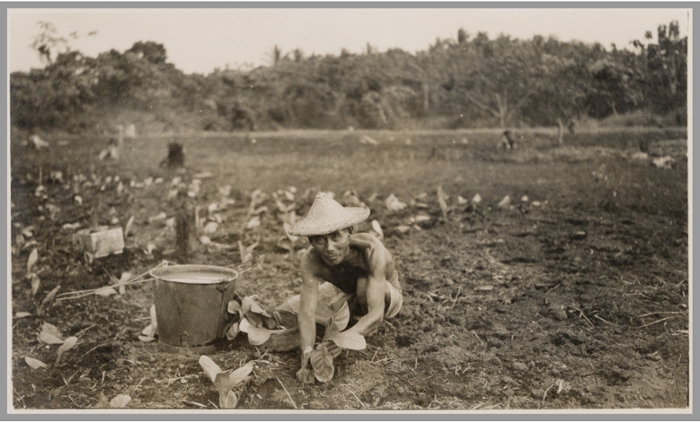 About Digital Collections
UBL makes digitised and born digital materials available through Digital Collections. The Digital Collections platform provides a wide range of functionalities, like the ability to search full text, to zoom-in on images and the ability to download images. It is also possible to search by types of materials and refine searches, a connection to the library catalogue is readily available and one can search different collections at the same time. Every collection has its own collection page, ensuring easy access to individual collections. Every digital source record has been provided with a persistent link, making records suitable for reference on the internet and in academic publications. Many materials in Digital Collections have been published under a CC-BY license, which makes them usable and alterable for every user. UBL continues to add new materials to Digital Collections.