Exhibition W.O.J. Nieuwenkamp en de Nieuwe Kunst rond 1900
The exhibition W.O.J. Nieuwenkamp en de Nieuwe Kunst rond 1900 will be on display in Leiden University Libraries in the period 21 January-17 May 2016.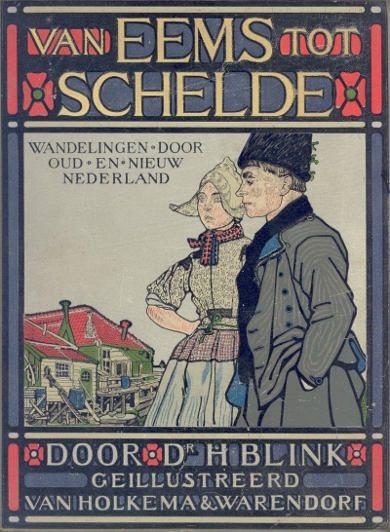 Leiden University Libraries and the Foundation Museum Nieuwenkamp are organizing an exhibition on the graphic
art and applied art by W.O.J. Nieuwenkamp (1874-1950)
and the Dutch contribution to Art Nouveau: The Nieuwe
Kunst. The central theme is the travels of Nieuwenkamp in
The Netherlands, Egypt, India and Indonesia and the
impressions that he recorded during his rambles.
Indonesian images
Nieuwenkamp is foremost known for his depiction of
Indonesia. He was the first Western artist who visited
Bali just before 1900 and travelled to the island for five
times. In beautiful drawings and engravings he depicted
the culture of the islands and recorded the day-to day life
of its inhabitants. He was also an ethnologist and he
collected a large number of artefacts during his travels.
Nieuwenkamp travelled in Europe by way of a boat that he had designed and built himself in 1902: De Zwerver. He lived on this boat with his family and there he produced many drawings and engravings.
Collections
Leiden University Libraries holds one of the most beautiful
and most complete collections of Nieuwe Kunst. The collections
holds representative examples of the works Toorop, Dijsselhof,
Lion Cachet, Lebeau, etc. De Foundation Museum Nieuwenkamp
was founded on 25 February 1947 in Edam by Nieuwenkamp
himself. The foundation manages an important part of the
heritage of the artist.
Publications
The periodical De Boekenwereld has published a special issue
on W.O.J. Nieuwenkamp and the Nieuwe Kunst. Vantilt
Publisher is cooperating with Leiden University Libraries,
the Royal Library in The Hague, the Special Collections of
Amsterdam University and the University Library of Leuven.
In 2016 publisher De Buitenkant will publish a Catalogue
resume W.O.J. Nieuwenkamp - Bouwstoffen containing an
overview of all the (applied) graphic art of Nieuwenkamp,
complied by Ernst Braches in cooperation with Freek Heijbroek.