Best practices
On the page we show a brief overview of some inspiring examples of Open Science being practiced at Leiden University.
Heritage and citizens
Faculty of Archeology
Quentin Bourgeois is involved in the Citizen Science project 'Erfgoed gezocht'. In this project citizens work together with researchers. They can help from behind their computer but can also join in field work. The project has two main goals, each linked to one side of the cooperation. From the citizens point of view, the goal is to spread awareness about the proximity of archeological heritage sites. Creating more awareness leads to more protection of these sites. From the scientist point of view, it is interesting to collect new information about archeological heritage. The participation of citizens makes it possible to collect bigger sets of data.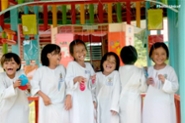 Leiden Children's Rights Observatory
Faculty of Law
The Leiden Children's Rights Observatory is an open access online database of case commentaries, written by international experts on children's rights. The Observatory includes original analyses and reflections on legal developments and global standards, it enables everyone to have access to information and discussions on (international) children's rights. The Observatory is based at the Department of Child Law of Leiden Law School. Ton Liefaard, Julia Sloth-Nielsen and Jaap Doek are part of the editorial team.
COVID radar app
LUMC
A very relevant example of Citizen Science can be found in the field of medicine. Niels Chavannes, Mattijs Numans, Jessica Kiefte-de Jong and their team from the department of Public Health and Primary Care within the LUMC have developed the COVID radar app. In this app, Dutch citizens answer questions about their health and behavior. When correlated with the corona numbers, researchers get more insight in the trend of the pandemic. In this way the app has a predictive function.
An interview with Niels Chavannes was published in March 2021, in this interview he talks about how the app was invented and how it is being used
Reprohack
Faculty of Science /LUMC /Centre for Digital Scholarship
An Open Science initiative that even won a prize is the Reprohack. A Reprohack is a hackathon-like event for practicing reproducible research practices. Authors of scientific papers can send in their article alongside with data and software and the participants of the reprohack do the rest. Sending in your research for a reprohack can improve the quality of your research. The core team from Leiden University behind this initiative includes Daniela Gawehns (FWN) and Linda Nab (LUMC), supported by Kristina Hettne (CDS). On the 11th of February 2021, the team that organized the Reprohack received the Open Initiative Trophy, a prize for the best Open Science initiative in the Netherlands, handed out by National Open Science Programme. The Reprohack Github repository can be found here.
Kristina Hettne and Daniela Gawehns tell more about this Reprohack in an interview that took place after winning the price.
VODAN Africa & Asia
The Virus Outbreak Data Network (VODAN) is an Implementation Network, an initiative from GO-FAIR, meant to fight the COVID virus by making medical data on the virus FAIR. In this way, the data, held in residence, is accessible for others and can be combined to establish meaningful patterns that can help in future infectious disease outbreaks. Within this global network, VODAN-Africa is the Implementation Network of Universities and Hospitals in Uganda, Ethiopia, Liberia, Kenya, Nigeria, Kenya, Somalia, Tanzania, Tunisia and Zimbabwe, and graduate students from the Leiden University. This network focuses on the data in Africa and ensures that data generated in Africa also stays in Africa but is visible for queries and analytics under clear conditions. To do so, they have organized a Training for Trainers trajectory, where data analysts learn about FAIR data management. Mirjam van Reisen, professor FAIR Data Science at Leiden University Medical Centre (LUMC), supports the VODAN-Africa board as the Global Coordinator. Since October 2020 the network has expanded and includes partners from Indonesia, Kazakhstan and China. Therefore the network is renamed VODAN Africa & Asia. The VODAN Africa & Asia project was recognized in Unesco's Egineering For Sustainable Development report in March 2021. More information can be found on the VODAN website.
Psychology Lab and Open Science
The Brain and Development Research Center in Leiden is committed to open research practices. From 2019 onwards, Dorien Huijser has played an important role in the transition to a more transparent way of working within this lab. She was the contact person for Open Science and could support researchers with Open Science activities. In June 2021, Dorien was interviewed about Open Science, the Brain and Development Research Center and her tips and tricks for a department that wants to start with Open Science
Open Access Books
Nowadays it is very common to publish a scientific paper Open Access, frequently even required by funders. This results in more information and support on how to publish Open Access. This is not the same for the publishing of books. However, more and more books are being published Open Access. The Open Access Team at the Center of Digital Scholarship (CDS) look at 6 different ways of publishing your book Open Access in their blogpost 'Tips for making Open Access books'.